An annual series of live classical
music performances at
ST. WILFRID'S CHURCH, CHURCH LANE,
GRAPPENHALL VILLAGE,
WARRINGTON, CHESHIRE
WA4 3EP UK
Featuring some of the top names in classical music.
St Wilfrid's church boasts a warm and very comfortable setting for concerts.
Live at St Wilfrid's! has been presenting high quality concerts for twenty five years. As well as encouraging young musicians, it has played host to many internationally famous artists including Stephen Hough, Tasmin Little, Steven Isserlis, Michael Collins Martin Roscoe, Leon McCawley, Paul Lewis and The Brodsky and Sorrel Quartets and The Kings Singers.
It provides a varied diet of music, a decision endorsed by audience survey and as recommended by Classic FM Magazine
Photos © Richard Connolly
All concerts start at 7.30pm
Next and future concerts in 2019 season
'Online purchase attracts a booking fee of approximately 50p per ticket.
It has not been technically possible to set it at exactly 50p.'
Contact and Booking Details
Previous concerts in 2019 season
1. Thursday 14th February 2019
Craig Ogden
Craig Ogden Website, click here
Australian born guitarist Craig Ogden is one of the most exciting artists of his generation. Craig's five Classic FM albums all shot straight to No.1 in the UK classical chart and he is one of Classic FM's most played artists. On this visit to us Craig will present a programme with Serbian born classical accordionist Miloš Milivojević who has performed here previously as part of the Kosmos Trio.
4. Saturday 18th May 2019
The Pelléas Ensemble
The Pelléas Ensemble website, click here
To buy The Pelléas Ensemble tickets, click here
Henry Roberts (flute), Luba Tunnicliffe (viola) and Oliver Wass (harp) playing with "verve and polish" (The Times), they recently won the Royal Philharmonic Society's Henderson Chamber Ensemble Award and the 2017 Elias Fawcett Award for Outstanding Chamber Ensemble at the Royal Overseas League competition. They are Tunnell Trust Young Artists. A programme entitled Bach to Jazz awaits.
3. Saturday 6th April 2019
Scott Brothers Duo
Tom Scott PIANO
Jonathan Scott PIANO & ORGAN
To buy Scott Brothers Duo tickets, click here
Scott Brothers Duo return to St. Wilfrid's with an unmissable programme of thrilling music for four hands at one piano as well as music to show the colours of the organ of St. Wilfrid's, including music by Mozart, Beethoven and Rossini, as well as Tom Scott's own music and the brilliant Toccata by Widor.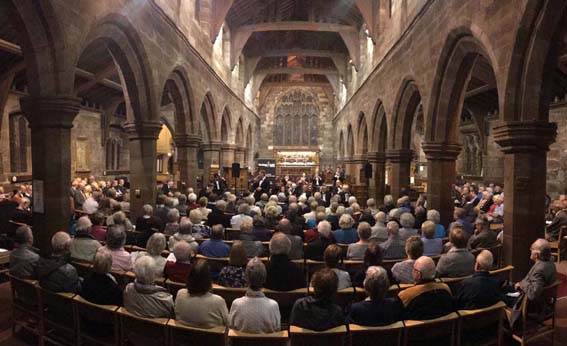 5. Thursday 20th June 2019
Leyland Band
Leyland Band website, click here
To buy Leyland Band tickets, click here
A welcome return visit by the band, presenting music for all tastes from the classics to the cinema, with some outstanding soloists performing virtuoso works.
6. Thursday 7th September 2019
Kathryn Rudge
Kathryn Rudge website, click here
To buy Kathryn Rudge tickets, click here
Kathryn Rudge is a critically acclaimed opera singer and concert/recording artist described by "What's on Stage" as "one of Britain's brightest young mezzos". In 2018 she played Zerlina in Don Giovanni for Opera North and her busy concert schedule included several performances of The Dream of Gerontius, Elgar's Sea Pictures, Sir Karl Jenkins' 75th Birthday Tour and a performance for the Duke and Duchess of Sussex. She will be accompanied by Duncan Glenday.
8. Thursday 14th November 2019
Swingshift Band
Swingshift Band website, click here
To buy Swingshift Band tickets, click here
The Band and vocalist Corinne Andrew present 'The Big Band Story' - a musical journey through the history of swing, from the 1930s through to the present day.
2. Saturday 23th March 2019
The Apollo Saxophone Quartet
The Apollo Saxophone Quartet website, click here
To buy The Apollo Saxophone Quartet tickets, click here
The Apollo Saxophone Quartet comprising of Rob Buckland, Carl Raven, Andy Scott and Jim Fieldhouse, has been over 30 years at the forefront of the UK classical music scene. The first half of the concert features three works that explore the vast array of sounds and colours available to the saxophone quartet, followed by a second half which will include 35 minutes of their black and white silent film project.
7. Thursday 17th October 2019
Telemann Baroque Ensemble
To buy Telemann Baroque Ensemble tickets, click here
Flute, Oboe, Violins, Viola, Cello and Harpsichord. Appearing at every Uppermill Festival for the past 25 years, the Ensemble starts our concert with a virtuosic flute concerto by Pergolesi and ends with a delightful Quintet for flute, oboe and strings by J C Bach featuring en route concerti and trios by various composers. Harpsichordist Peter Collier gives the introductions.
How to find St Wilfrid's Church
CHURCH LANE GRAPPENHALL WA4 3EP
From the M6 junction 20 (M56 junction 9) take the A50 towards Warrington. After approximately a mile, turn left into Bellhouse Lane which is immediately after the 30mph speed restriction sign. Follow the lane for half a mile, over a humped back bridge and the church is on the right. Parking facilities will be indicated.